Bespoke Landscape Design and Installation Services in West London and Surrey
Reliable, knowledgeable and friendly team
Highest standard of service
Local business, 12+ years experience
Brick, Natural Stone Walls
Why Choose Our Landscaping Services
Four Seasons Garden Care is committed to providing a dependable landscaping service through consistent attention to detail. We keep the sites clean and tidy at all times and all work is covered by public liability insurance.
We only use licensed carriers to remove waste. Where projects require additional expertise, we can draw on our professional network to employ external personnel.
We never use cheap or low-grade building materials and don't take shortcuts during the construction process nor employ underpaid labour. We firmly believe in a fair pricing policy, which means that we don't offer unfeasibly competitive quotes.
Only sound horticultural techniques used
Highest standard of service
Reliable, knowledgeable and friendly team
All services covered by public liability insurance
Quality work done on schedule
The garden design evaluation
First, the client provides their own concepts, sketches, a wish list, and we discuss the scope and the budget of the project. Upon request, the client can employ us to create a garden design for them.
The site survey
We carry out a garden survey, discuss the client's vision and preferences and verify the concept on site if the client has a design ready.
Final details and quote
We adjust the final design and the scope of the project if necessary, and present it to the client along with our quote. The quote is inclusive of all the required material, labour and waste removal.
Execution of the project
Once agreed on the scope and price quote, we'll arrange an appointment to begin execution of the landscaping project.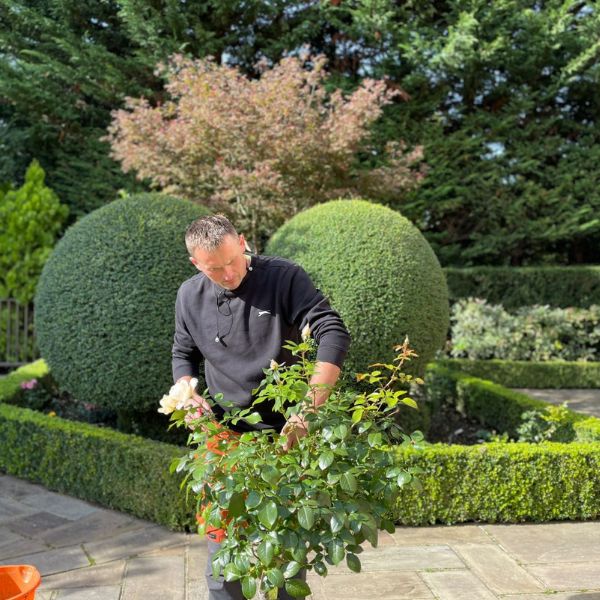 Our Recent Landscaping Projects
Here are just a few of our recent landscaping projects in West London and Surrey. Visit
our gallery
for more.
Peter and his team are true professionals. They're always punctual, friendly, respectful and the quality of the workmanship is outstanding. We're happy to have been working with them for years now. The garden is perfectly maintained and a joy to look at.
We're very impressed by Peter and the team for being professional, reliable and so nice to have around. It's obvious they have the experience and the talent to turn a garden design into an amazing space. We couldn't have wished for a better team and we wouldn't hesitate to recommend them to anyone we know.
I would highly recommend Four Season Garden Care to anyone looking for a professional help with their garden. From start to finish, everyone was super professional, friendly and efficient. The work was carried out exactly how I wanted it.
Need Landscaping Services?
If you'd like to book a survey and quote, just give us a call or click the button and send us a message.